Our business is all about inspiring growth in others, but today we want to celebrate some growth of our own. We've made three exciting changes within our team, welcoming a brand new VP of Sales and elevated two other team members to new positions.
Welcoming Jon Fraser as our VP of Sales
We are very pleased to officially welcome Jon Fraser to the team as our new VP of Sales!
Jon brings tremendous sales experience, a keen strategic eye, an honest and kind disposition, and a huge passion for our business. We're excited by Jon's energy and enthusiasm and we're beyond confident he will be a strong advocate and deliver great results for our clients.
Welcome to the team, Jon!
Peggy Baumgartner has been named Third Factor's Chief Learning Officer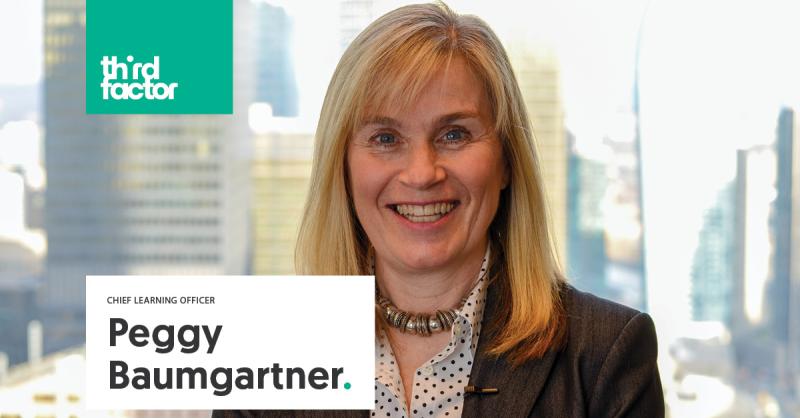 We're thrilled to announce that Peggy Baumgartner is now Third Factor's first ever Chief Learning Officer.
If you've ever met Peggy, you will know that this is not just a title, it's a description of who she is as a person. Peggy is a voracious learner herself, and also the consummate coach – restlessly invested in helping others learn, grow and develop. She has been at the heart of Third Factor's philosophy, products and delivery for 20 years – and we're thrilled to see it reflected in her title. There is only one Peggy Baumgartner, and we're so lucky to have the market cornered!
Carrie Drybrough is now our VP of Operations
We're very excited to announce that Carrie Drybrough is now Third Factor's VP of Operations.
Carrie has been instrumental in driving our shift to a digital organization – owning and overseeing the implementation of new learning technologies to support learners wherever they are and bringing seamless operational execution to every engagement we run. As the proud owner of Third Factor's 'bug sanctuary' – our one-stop tracker for any and all issues for product or operational improvement – she also deserves an honorific Chief Squashing Officer title.
Congratulations, Carrie!