Approximately 1 in 5 Canadians identify as having a disability, and this number will continue to rise as our population ages. At Third Factor, we have a long history of working to reduce barriers for people with disabilities and we want to shine some light on an initiative we're participating in this week: the annual Rick Hansen Foundation Accessibility Leadership Forum.
Inspired by the belief that anything is possible, Rick Hansen began the Man In Motion World Tour in 1985, wheeling 40,000km over two years. The Rick Hansen Foundation, established in 1988, has made transformational change in raising awareness and removing barriers for people with disabilities, and funding research for the cure and care of people with spinal cord injuries. Today, the Foundation focuses on improving accessibility to create a world that's accessible and inclusive for all.
In service of this, Rick and the Foundation have brought together a group of leaders from the disability community to collaborate on making Canada the most accessible country in the world. The forum has met annually for the past 4 years to leverage their unique organizational strengths, exchange ideas, build practical recommendations, assess progress, and identify priorities for the coming year.
Since this group first came together we've been privileged to work with Rick and his team at the Rick Hansen Foundation to help design the day, making sure that we're engaging all the stakeholders appropriately and sending them back to the real world with a renewed sense of commitment towards an inclusive and accessible world for people of all abilities.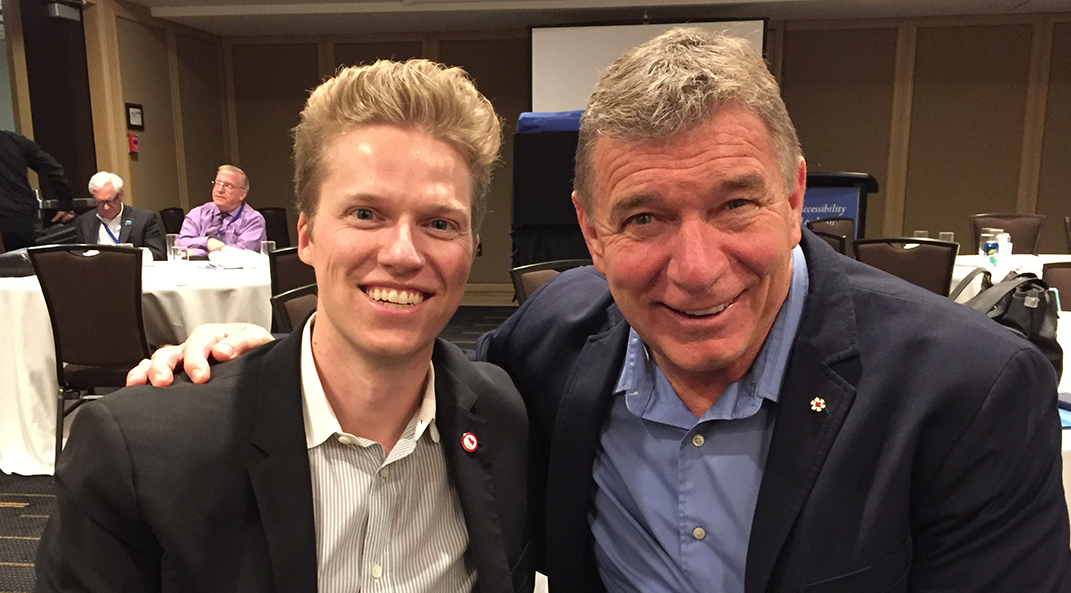 Third Factor CEO Dane Jensen and Rick Hansen
This year, the focus will be primarily on discussing what it means to be a collaborative community of organizations. How do we think about combining our efforts to make sure that we are punching above our weight and not just acting as a number of independent organizations? We are stronger as a whole and through better corporate collaboration, we can accelerate the pace of progress for people with disabilties.
This year also marks the launch of the Accessibility Professional Network, a membership network created to bring together accessibility professionals, consultants, students and anyone passionate about creating a Canada that's accessible for all. The network will host its first Annual Accessibility Professional Network Conference on Oct. 31-Nov. 1 in Toronto, which will provide a platform to learn about national and international initiatives in accessibility and contribute to enhancing the field of accessibility in Canada.
Canada is a better place to live because of the important work that Rick and the Foundation have done to raise awareness and remove barriers, and we're pleased that we're able to contribute to a movement that's making a real difference in the lives of people with disabilities in this country.
If you're interested in doing more to improve accessibility within your organization or community, learn more at the Rick Hansen Foundation.